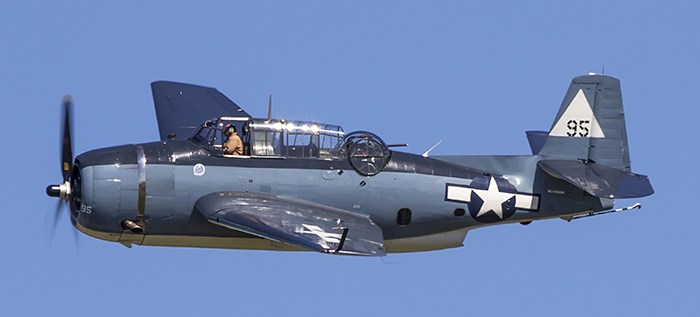 This type was primarily used onboard aircraft carriers in the Atlantic and Pacific carrying a 2000 pound torpedo or different bomb arrangements in its bomb bay and 8 under-wing rockets. A crew of 3 operated the aircraft: pilot, turret gunner, and radio operator/bombardier. This aircraft was built by Eastern Aircraft division of General Motors in July of 1945.
The most famous WWII TBM pilot is our 41st president George H. W. Bush. On September 2, 1944 Bush was shot down by ground-based anti-aircraft fire while bombing Chichi-jime Island, approximately 600 miles south of Tokyo, Japan. He parachuted into the Pacific Ocean and was late rescued by the US Navy submarine USS Finback. Neither his turret gunner nor radioman survived.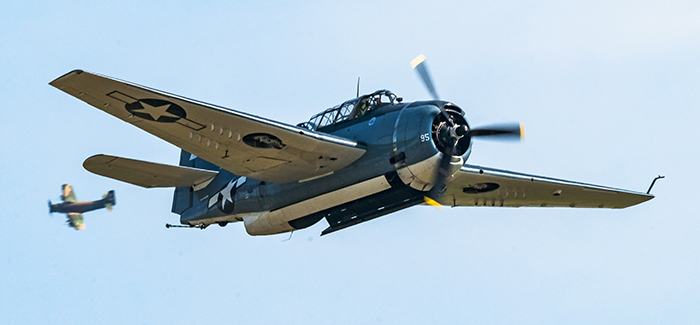 This TBM was manufactured by Eastern Aircraft, a division of General Motors in July 1945. It was sent to the west coast but by then the war was over so it didn't see combat. It was based in San Diego and Seattle and flown 630 hours until being surplused in 1956.
Saved from the scrapper, the TBM was purchased and highly modified into a sprayer/Ag aircraft. All of the armament was removed, the bomb doors cut up and a tank installed in place of the gun turret. Cisco Aircraft operated it a few years and it appears to have been used for spare parts to keep the rest of the fleet operational. It had a brief role as a wind machine to test windows at a manufacturer in Phoenix, Arizona. Sold at auction in 1985, it was shipped to Florida where it went thru various owners who hired some restoration work of the fuselage.
Charlie Cartledge purchased the project in 1999 and spent 14 years to restore it to flying status. No detail was overlooked in the authentic restoration from the ground up. Thousands and thousands of mostly volunteer hours were put into this TBM. One of the most in depth restorations to date of a TBM Avenger, we took home all the awards at Oshkosh 2014! Awarded the Lindy Award Grand Champion WWII, Phoenix Award (for bringing an aircraft back to life). Golden Wrench Award for the restoration and Judges Choice award!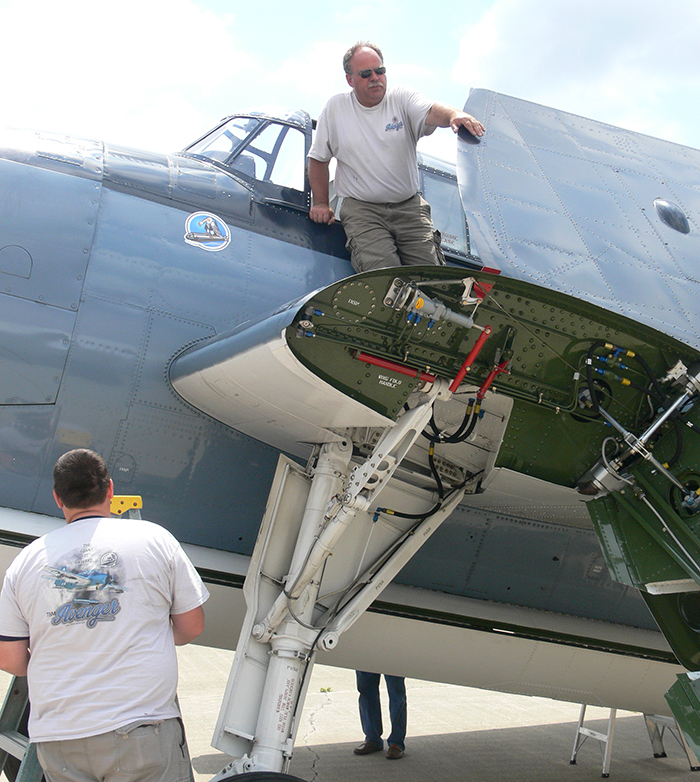 The TBM is painted in markings to represent Squadron VT 20, a torpedo squadron based onboard the USS Enterprise during the Fall of 1944. Our friend Del Vernon was a turret gunner with VT-20 during this time and the aircraft is painted in his honor.
The aircraft is totally airworthy and includes a complete turret, operational bomb doors and folding wings! It is flown frequently and is always a hit at the Airshows and events that we attend. Primarily, our goal is to Keep 'Em Flying so we can share the history of the people that flew them, built them and serviced them!
Lake Erie Warbirds truly appreciates the opportunity to bring this beautiful TBM to the Fly/In Cruise/In!
Thank You,
Charlie Cartledge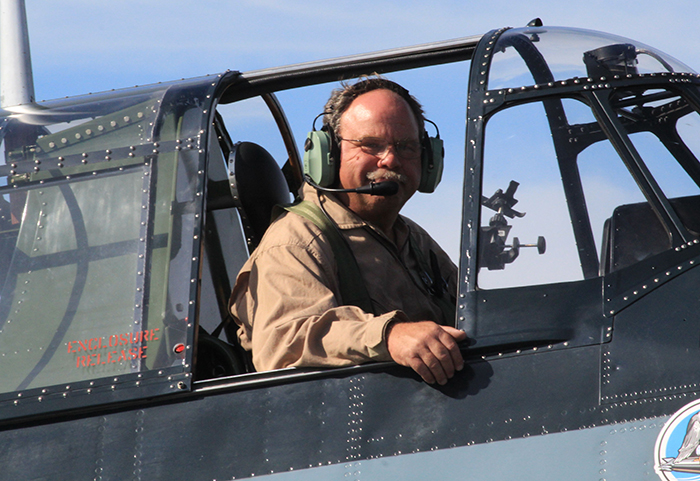 TBM AVENGER SPECIFICATIONS
Length………………………. ..40' 11"

Power Plant…...Wright R-2600-20 Twin Cyclone,

Wingspan (wings spread)…......54' 2"

14 Cylinder, 1900 hp, radial engine

Wingspan (wings folded)….......19'

Height……………………….....15' 5"

Engine Oil Capacity………………...……32 gals

Fuel Capacity - Standard Tanks…..……325 gals

Empty Weight…………......10,545 lbs

Fuel Consumption……………………….75 gal/hr

Maximum Weight………....17,893 lbs

Armament....up to 2000 lbs of bombs in bomb bay

Cruise Speed……………..….200 mph

or one 2200 lb Mark 13 torpedo in bomb bay

Maximum Speed………....….275 mph

-various wing mounted rockets, bombs, fuel tanks

Ceiling……………………....…30,100'

and/or radar pod

Range - Standard Tanks…...800 miles

-two .50 caliber machine guns mounted in wings

Combat Crew……………...…...3 men

-one .50 caliber machine gun in dorsal turret
Number of Avengers built…....9,837 Number of Flying TBMs……….…………..…30+