In 1991, while at a car show in Marion, Indiana, Mike Vanlandingham, Larry Williams and Ray Johnson had an idea. Knowing that the Marion High School Band Boosters were looking for a fundraiser, the Fly/In Cruise/In was created. The concept was to feature Antique, Classic and Custom Cars, Motorcycles and Airplanes and invite the general public to enjoy an all you can eat Pancake and Sausage Breakfast. The location? Where else but the Marion Municipal Airport.
The Fly/In Cruise/In is an all out community event, run entirely by hard working volunteers.
In 2022 at the 31st Annual Fly/In Cruise/In, the Grant County Rescue Mission will be the beneficiary of the funds raised at the all you can eat Pancake & Sausage Breakfast.
The Fly/In Cruise/In is a registered 501(c)(3) non-profit charitable corporation.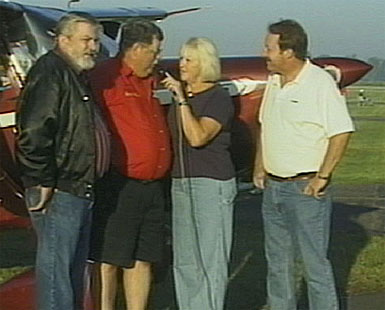 Fly

/

In Cruise

/

In

organizers Mike Vanlandingham (left), Larry Williams (second from left) and Ray Johnson (far right) being interviewed by Inge Harte from Time Warner Cable.