North American T-6 Texan
Rides were also available on this North American T-6 Texan, a single engine fighter trainer aircraft that was used to train US, Canadian and British forces during World War II and through the 1950s. The T-6 is known by a variety of designations - the AT-6 (USAF), the SNJ (USN), and is most commonly known as the Harvard outside the United States. Our aircraft is an AT-6D. More than 17,000 T-6 airframes of various designations were produced. Today there are still more than 350 in airworthy condition.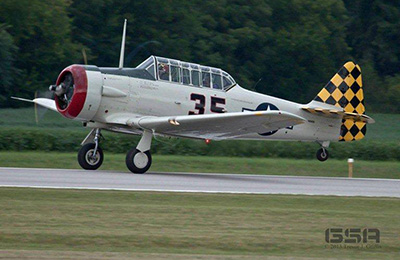 The T-6 was known as the "pilot maker" for its role in preparing Allied pilots for combat. It is an excellent trainer, possessing the handling characteristics of fighter and the capacity for full aerobatic maneuvering. In World War II, pilots logged considerable hours in the T-6 before moving up to the faster P-51 Mustang. Even now, insurance companies require significant time in a T-6 before agreeing to insure a pilot for the P-51.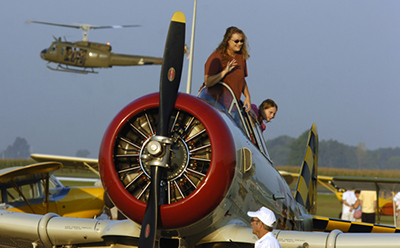 Our T-6 is owned by Nathan Davis and operated by the Warbird Training Center based out of Kokomo, Indiana. #35 is a tribute to the 325th Fighter Group called the "The Checkertail Clan."